Sliding Stacker Door Retractable Insect Screen from Brio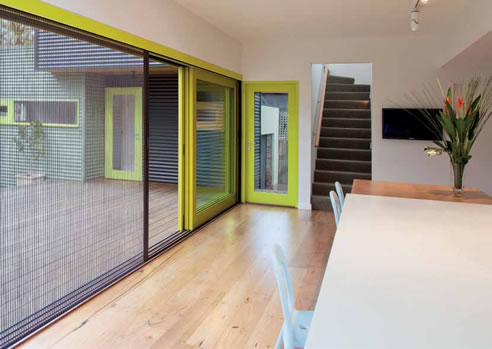 Brio® 612 Retractable Pleated Insect Screen
The Brio® 612 Retractable Pleated Insect Screen is a fine example of our passion for shaping the spaces in which people live, work and play.
In the past, insect screening was limited to narrow openings for single & double doors. But now the Brio® 612 Screen has changed the possibilities, with the capability to cover large openings; making it one of the biggest single action products of its type in the world.
Sliding Stacker Door Application
We've designed new screen kits for sliding stacker door applications. The Brio® 612 Screen is rebated into the edge of the fixed panel rather than the screen running behind the fixed panel and across the whole jamb to jamb to opening, delivering a range of aesthetic and economic benefits:
The screen installation fits within standard frame and jamb widths. Oversized jambs are not required.
The screen does not cover the fixed panel when in use, providing an uninterrupted view through the fixed panel.
Only the usable opening width requires screening.
The sliding door panel seals against the screen to provide a weatherproof seal.
02 8718 6718
C5, Regents Park Estate, 391 Park Road, Regents Park, NSW, 2143