Frameless Glass and Hand Rail Fittings from ECIA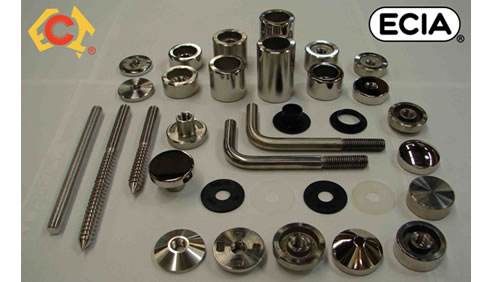 ECIA - Ø32 Stainless Steel Fittings
ECIA has released a new range of M10xØ32mm stainless steel 316 frameless glass & hand rail fittings. The full range of components include:
Spacers - 5mm, 10mm, 15mm, 20mm, 30mm & 50mm.
Flanges - Tapered, Flat 5mm, Flat 10mm.
Nuts/Caps - Tapered, Dome, Flat 12mm, Flat 7mm.
Nylon Washers to suit in Black or White.
The new Ø32 stock will add to the extensive range of M10xØ38 & M12xØ50mm fittings already available direct from ECIA.
ECIA is an experienced supplier to the building industry that can provide added design and manufacturing support to its customers.
ECIA is not limited to off the shelf products, also providing fast design support and manufacture of custom products to your specification. Aluminium, steel, plastic and many other materials can be manufactured to suit your special requirements.
Please visit our website at www.ecia.com.au for a copy of our latest catalogue and for more product information, please contact via email or call us on (02)-98380295.