Australia's Most Efficient Condensing Boiler from Hunt Heating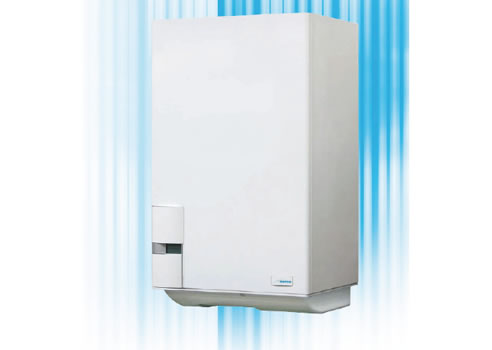 MURELLE GREEN PLANET
Condensing boiler the versatile intelligent boiler with a green heart.
At the heart of the Murelle HE boiler is a combustion system that ensures the highest efficiency by extracting the most heat possible from the burnt gas.
The advanced system also means polluting emissions are kept to a minimum. NOx emissions are well within limits set by European standards (Class 5 reference EN483).
A - The main heat exchanger is manufactured in high quality stainless steel (AISI 316 LC) to resist the corrosive action of the condensation that is produced. It's cylindrical shape, as well as efficiently collecting the condensate liquid, ensures the best possible heat exchange takes place.
B - The pre-mixed burner, also in stainless steel, is cylindrical and positioned radially in the combustion chamber. Its 'micro-flame' feature allows for a lower operating surface temperature which reduces significantly the amount of polluting emissions (nitrous-oxide) produced.
C - Air and gas for combustion are introduced into the burner manifold pre-mixed in an ideal balance.
D - The recovery of normally wasted energy occurs where the water vapour, present in the hot flue gases, condenses as it contacts the cooler surface created by the return water from the heating system.
E - The sophisticated pre-mixing system along with constant temperature monitoring means the boiler output is perfectly matched to demand and ensures the highest possible operating efficiency at all times.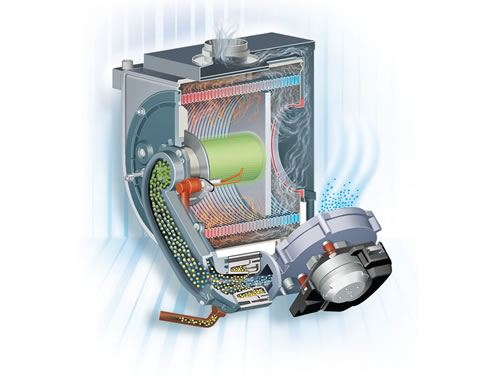 The pre-mixed condensation system of Murelle EV HE
Energy efficiency and environmental protection
The innovation of Murelle EV HE range incorporates a new exchanger that achieves a modulation range from 1:5 and 1:4.
Furthermore Murelle EV HE pays particular attention to environmental protection with the adoption of a sophisticated pre-mix system, in which air and gases are mixed in a special collector. Together with a constant temperature monitoring this ensures the boiler output is always perfectly matched to demand and also ensures the highest operating efficiency at all times reducing pollutant emissions (CO and NOx).
Thanks to these solutions NOx emissions of Murelle EV HE are about 30mg/kWh, less than half of the more restrictive rules of Class 5 UNI EN 297 and 483.
New Interface Controls
Murelle EV HE has a control panel that consists of two separate areas.
The lower area is dedicated to the end-user interface via a keyboard with eight keys to manage operation intuitively. The area above the display is dedicated to the operating parameters of the Murelle EV HE managed by four buttons and a port for connecting to a PC for data extraction. In addition, the integral time programmer housing is also located above the display.