Seal Floor Wastes in Wet Areas with PromaSnap® from Promat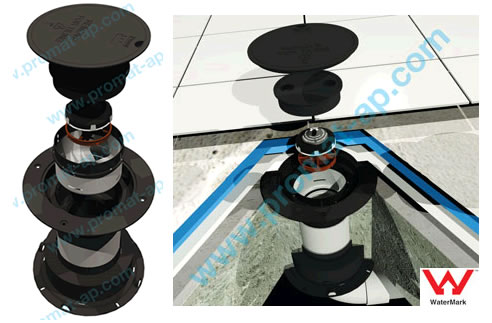 NEW AUSTRALIAN DESIGN - PromaSnap® Floor Waste System
Floor wastes in wet areas are notoriously difficult to seal in the event of a fire. The lack of a pipe stack above the floor level means that the floor grate offers little protection from fire and smoke once the pipe work has burnt through from below.
AS 4072: Part 1 demands that the fire resistance test of floor waste must be conducted on pipe work that is identical to the installed configuration. PromaSnap® Floor Waste System has been tested for floor waste applications to Australian Standards (AS1530: Part 4 and AS4072: Part 1) for 120 minutes with uPVC pipe and fittings.
PromaSnap® Floor Waste System has been designed to not only provide a tested system but also provide an effective, easy to install solution for water proofing and the levelling of the screed for tiling along with water drainage from the floor.
The system consists of a PROMASEAL® PipeSeal to hold pipe work in place. If the slab depth is over 125mm deep, then a length of pipe is necessary. This will be 75mm less than the slab thickness, e.g. for a 300mm slab depth a 225mm length of pipe is required.
For slabs less than 125mm thick, reduce the length of the spigot on the PromaSnap® Floor Waste System that connects to the pipe. To ensure the puddle flange is level, it may be prudent to cut the pipes slightly less than this 75mm referred to above.
PromaSnap® is manufactured entirely from recycled and recyclable material. PromaSnap® Floor Waste System is certified under the WaterMark Certification Scheme.