Eco-Friendly Commercial Flooring from Sherwood Enterprises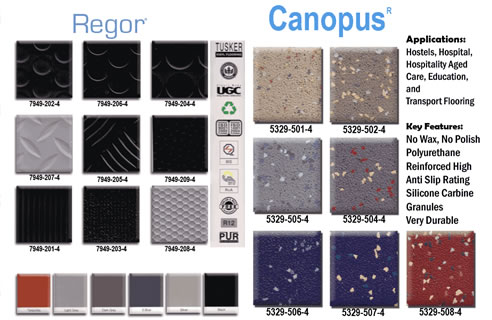 SHERWOOD ENTERPRISES TRADES THROUGH THE FESTIVE SEASON WITH ECO-FRIENDLY COMMERCIAL FLOORINGS:
Sherwood Enterprises has just received a 40' container of eco-friendly Safety Vinyl flooring 2 meters wide 2mm thick homogeneous single layer thickness polyurethane reinforced PUR finished Vinyl flooring with R11 & R12 certified slip and low VOC's emissions (Also Canopus achieved Marine certification usage).
The latest 2012 Colourways in Homogeneous Safety Vinyl flooring so 'Who Said? Safety Flooring Was Boring'
Canopus Safety Flooring R11 Slip is available in plain solid colours or fleck designs and especially for anti-slip resistance in bathrooms showers & en-suites a new bare foot mini stud & silicone carbine granules impregnated safety flooring called Canopus Crompton R11 Slip.
REGOR - is Studded Commercial Vinyl flooring with R12 slip Certification. REGOR is 2 meters wide 2mm thick with a raised stud for extra security of step and maintenance is a breeze with REGOR being 100% polyurethane reinforced PUR throughout the product thickness not just the surface.
'You're more likely to slip on a banana peel than Regor Vinyl Flooring.'
Please note our additional flooring products on our website and note for Christmas 'WHY NOT? - Purchase our Recycled Rubber Gym Tiles in stock now for immediate delivery.
Sherwood Enterprises will be open for business during the Festive Season except for the main Public Holidays.
THANK-YOU TO SPEC-NET AND ITS READERS FOR THE SUPPORT IN 2011
THE SHERWOOD FAMILY