Eco Friendly Healthcare Carpet Clinicfloor from Sherwood Enterprises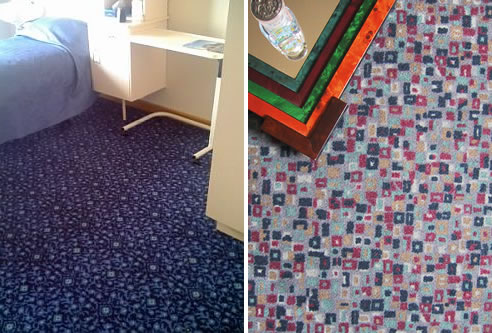 HOSPITAL - AGED HEALTHCARE FACILITIES UTILIZING
ECO-FRIENDLY CLINICFLOOR CARPET:
NEW 2012 ARCHITECTURAL CATALOGUES HAVE JUST ARRIVED.
At Sherwood Enterprises we are delighted to market Clinicfloor textile carpet the Unique horizontal constructed carpet with No Vertical Pile and the new designed 2012 catalogue has just arrived.
Clinicfloor is 21st Century purpose built construction and fully tested & certified for Hospital Aged Care usage. Clinicfloor is a textile 2 meter wide textile carpet on an embossed latex natural rubber backing providing 25 dB acoustic sound improvement and anti-fatigue comfort qualities plus Clinicfloor acts as a vinyl or linoleum floor, but with textile advantages.
Clinicfloor is a multi layered construction textile carpet and the fibres are subject to a number of protective and finishing processes delivering a smooth and compact carpet surface of 6.6 Antron Nylon Excel yarn. The product contains recycled polyester underlay for dimensional stability derived from recycling plastic bottles whilst the base layer is impermeable preventing liquid penetration to the sub floor.
Clinic floor is Odour Free, Hard Wearing Certified to En 1470 Class Extreme, Comfort multi layer construction, Acoustic Sound Reduction properties, Safety as Clinicfloor is hypoallergenic, Sanitized & Teflon treated through the entire construction not just the surface ensuring stain & bacteria resistance plus Clinicfloor is water & oil resistance and fully tested for removal of Urine, Blood and other spillages. (Details Testing results available on application)
Clinicfloor is PVC Free with low emissions for a healthier work place environment, and environmentally Clinicfloor is 100% Recyclable and Sustainable. Clinicfloor utilizes bio-degradable inks, includes recycled polyester fibres and its high level of wear means less replacement less use of resources and less impact on the environment.
Clinicfloor has a 10 year Commercial warranty delivering the confidence you need with floorings and in 50 designs 400 colourways.
Clinicfloor being a horizontal has many significant advantages on a competitors vertical carpets, Rolling loads act as a vinyl floor surface due to low friction resistance in any direction, carpet musky odours a problem? Not with Clinicfloor. Clinic floor construction & treatment processes which are for the life of the textile carpet ensures Hygienic Indoor Air Quality. (Bacteria cannot breed in Clinicfloor even if unmaintained for 24 hours).
Please consider Clinicfloor textile carpet for your next Hospital Healthcare project, today we have Hospital Aged Care & Education Schools installation references right here in Australia.
For further information please note our contact details: