Cafco SPRAYFILM® WB3 Steel Coating from Promat Australia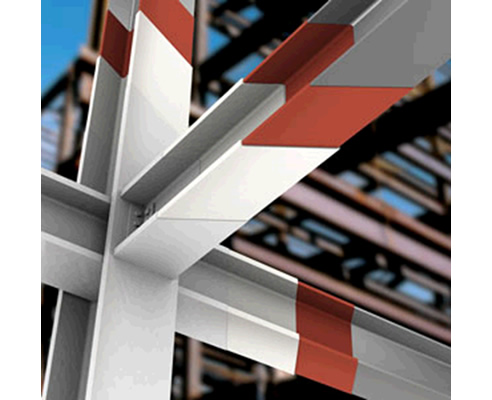 Cafco SPRAYFILM® WB3 - Intumescent Paint


Cafco SPRAYFILM® WB3 is a water-based intumescent coating for the fire protection of structural steel. With a VOC (Volatile Organic Content) of virtually zero, it therefore can be used safely alongside other trades on or off site. Cafco SPRAYFILM® WB3 is applied directly to the contour of suitably primed structural steel sections. It can also be applied in a single coat application and achieve a high level of cosmetic finish. Cafco SPRAYFILM® WB3 is fully re-coatable with approved topcoats which are available in a full colour range AS2700, RAL, NCS etc if required to ensure the designer has the ability to allow free reign with their imagination and colour scheme. In a fire, a chemical reaction takes place causing the Cafco SPRAYFILM® WB3 to expand and form an insulating layer, typically 50 times its original dry film size, which slows the temperature of the steel rising to a critical level. Independently tested and assessed by approved laboratories to meet the requirements of AS1530: Part 4, AS4100 and many other international test standards for up to 120 minutes fire resistance. Some advantages include:
Durable and decorative finish.
Steelwork may be left exposed to view.
Suitable for internal and external exposed environments
Can be top coated to match surroundings.
Easy application by approved contractors.
Fast drying time.