Glass Stair Treads for Frameless Staircase from Bent & Curved Glass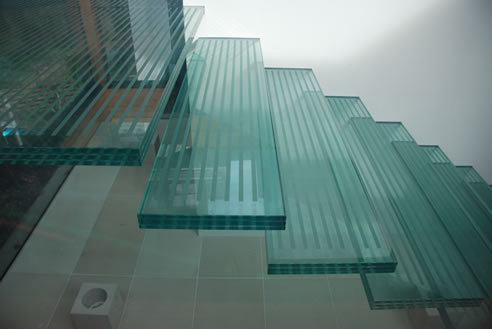 STEPPING UP WITH BENT AND CURVED GLASS
A successful collaboration by Bent and Curved Glass Pty Ltd with Jorg Hrdina Architects, Engineer Matthew O'Hearne and glazing contractor Vision Glass, has resulted in a stunning frameless glass staircase in a recent residential project in Neutral Bay, Sydney. The glass installation has gone on to win the "Best Domestic Glazing Project 2013" at the recent NSW Glass and Glazing Association Annual Awards.
"Creating innovation through collaborative effort"
Bent and Curved Glass Pty Ltd manufactured toughened structural laminated glass stair treads, landing and balustrades which were installed with an innovative concealed fixing method resulting in the cantilevered panels appearing to float in mid-air.
"The Project represents a major engineering feat, as each stair tread dramatically cantilevers out from the wall".
"The clear sightlines achieved reduce the mass of the stair, eliminating the heavy vertical element", says project architect Dan North. "Using an almost invisible material such as glass was crucial in avoiding that strong 45 degree staircase line, which would have worked against the rest of the buildings geometry".
Function is enhanced with the inclusion of an anti-slip frosted frit pattern to the top surface of glass. The specialised DuPont SGP interlayers, bonding the glass together, provide increased structural capacity and higher performance without adding to overall glass thickness.
The experienced staff at Bent and Curved Glass work though out Australia, with architects, engineers, builders and contractors at all stages of the design and construction process to ensure the best glass solutions are achieved within budget and on time for all project types and sizes throughout Australia.