Balustrade and Shade Sail Fittings Catalogues from Miami Stainless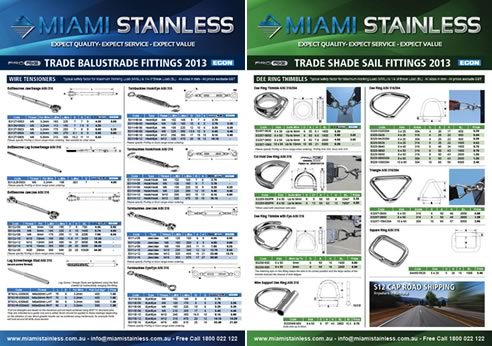 THE NEW CATALOGUES ARE HERE!
Both 2013 Balustrade and Shade Sail Catalogues have been mailed. This year both cataolgues will be available for download from our Resource Section and will be fully interactive, simply click on the product your after and be taken straight to the page on our website, easy!
This year our Balustrade Catalogue is packed full with our complete range of product sizes, product photos and information. On page 16 you will find our new ProRail Round Post Range, the latest design that brings together function and style. These posts come pre-drilled to your specifications and feature a unique fully welded heavy duty base plate, seamlessly welded saddle base and attached top saddle.
Trade Shade Sail Fittings
To continue offering our full range of products and sizes, our Shade Sail Catalogue has grown to 20 pages. On page 3 you will find new corner disc assemblies complete with dee shackles for easy ordering. Flip to page 19 and check out our new corrugated rafter bracket, specifically suited to corrugated roofs with 6 fixing points.