Eco Friendly Vinyl Flooring LG Hausys from Sherwood Enterprises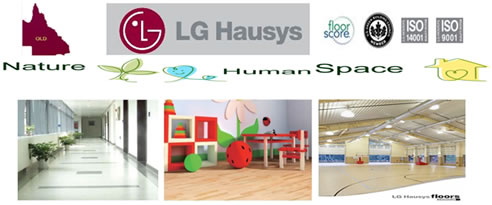 Sherwood Enterprises is Kenbrock's appointed QLD Specification Agent in Queensland marketing LG Hausys eco-friendly certified quality vinyl flooring at very Cost Effective Pricing and stocked Right Here in Brisbane.
Please view our website @ www.sherprise.com.au and click on LG Hausys to view the Brisbane stocked ranges and note your specification creates employment & future employment for Queensland families. Thank-you.
The LG name is recognized worldwide & one of the major product brands in the world today & the company began manufacturing sheet vinyl flooring in 1958 and of recent times expanded throughout the world and Australia to be a major quality vinyl flooring house ensuring all new vinyl ranges have a recycled content are recyclable & are sustainable flooring solutions: NB: Globally LG Hausys is recognized as being serious player in producing eco-friendly flooring to protect the environment for further details on LG Hausys Environment policy contact Sherwood Enterprises.
QLD GOVT PREFRRED LISTED LG HAUSYS RANGES:
In QLD ranges like LG Bright & Supreme are QLD Dept of Social Housing Preferred Listed and LG Durable is Preferred Listed by Education QLD plus Rexcourt Multi Purpose Sport hall flooring achieved various schools re the Federal Govt BER School Hall program.
All ranges are very Cost Competitive and importantly stocked in selected colours RIGHTHERE-RIGHT NOW in Brisbane for QLD projects:
Just released is LG Hausys Multi Range acoustic sound timber visual flooring featuring a closed cell backing and authentic timber visual for Hospital, Aged Care facilities, Education Schools, Child Care, Shop & Offices providing an anti fatigue sound reducing flooring that's easy to maintain and extends an ascetically pleasing timber visual Project pricing is very competitively 'WHY NOT' compare today with our Commercial Vinyl competitors ranges.
The latest LG HAUSYS 2014 Catalogues are available NOW
please contact us to forward to your practice

Before you leave please note on our Sherprise Website possibly the largest stock range in QLD of Quality Vinyl Planks Ranges for Residential of Heavy Duty Commercial projects at project pricing that's sure to please providing savings on similar quality vinyl plank ranges. ISO 9001- En 14001 and Green Tag certification.
NB: Just released is Smartdrop an acoustic backed vinyl plank in 9 timber species 5mm thick for commercial usage.
NOTE: 2014 Architectural VINYL PLANK Catalogues Available NOW