Remote Pump Station Status Indicator from Maxijet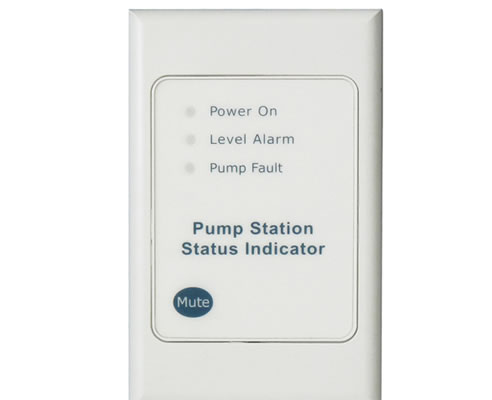 FPC-300 Dual Pump Controller has a unique feature that it has coded Data Output, which can be utilized to provide a signal to a remote, compatible device such as this Remote Status Indicator. The unique feature is that the coded data signal, derived from the Pump Controller's microprocessor, is conveyed through a low voltage 2 wire connection and then decoded by the Remote Status Indicator's micro controller.
Once the signal is decoded the micro controller provides four outputs to LED's and a Buzzer mounted on the circuit board. Conditions displayed by the remote indicator include 'power on', 'high level', 'pump 1 fault' and 'pump 2 fault'. The indoor indicator is mounted on an attractive wall plate, which incor¬porates the four indicator lights, plus the buzzer and mute button.
As soon as an alarm condition occurs at the pump station, the appropriate LED on the indicator is illuminated and the Buzzer starts to sound. The Buzzer will automatically silence after 5 minutes. The Buzzer can also be muted by way of the Mute button. The Alarm light will remain illuminated until the fault condition is remedied.