Recycled Rubber for Change Rooms by Sherwood Enterprises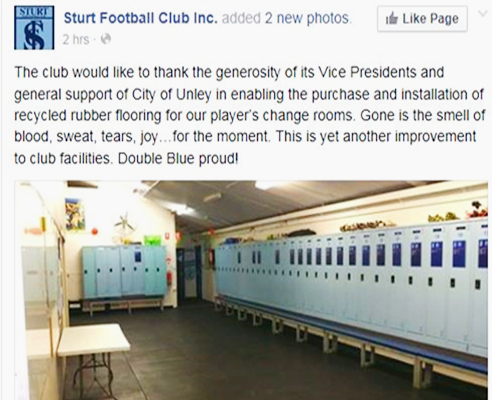 Sherwood Enterprises, the 100% Australian Owned & Operated family flooring distributor, stocks and markets DIRECT TO YOU - easy to install DIY Recycled Rubber Tiles for Slip Resistance. Ideal for the Australian Standard Duty of Care in Football, Sports, Gyms, Locker, and changing rooms (including opposition changing locker rooms). Plus Referee and Umpire changing rooms.
Sherwood Enterprises was established in 2004 marketing Recycled Rubber Tiles which are manufactured and compliant to international standard ISO 9001, and are 100% Eco friendly. We utilise recycled post waste tyres into Resilient, Flexible, Durable, Shock Absorbent, and Slip Resistant Gym Fitness Tiles. Our products have no toxins or solvent content, and we only utilise high quality Premium 1st Grade recycled rubber and bound (English polyurethane). Tiles are 1m x 1m x 15mm thick.
Please View our website at www.sherprise.com.au and contact us today!