High Speed Clean Room Doors from DMF International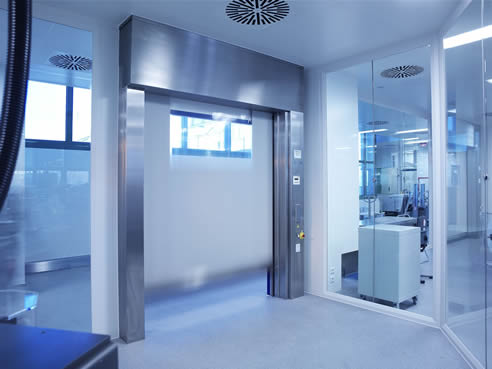 There is an increasing requirement for reliable specialised doors for clean room applications, for example in the pharmaceutical, medicine, biotechnology, aeronautical, electronics, automotive and process engineering areas. Specifying the correct door type and model is one of the most important components in the clean room design, and the CR Series of high speed doors by DMF, via their principle EFAFLEX, offers you specialist doors for these controlled production environments.
CR Series clean room doors from EFAFLEX are highly suited to the requirements in many of these controlled environments. They offer near air-tightness of the accesses, with tight sealing in columns and to the door blade. These high performance high speed doors have a smooth surface structure and no protruding edges. They can easily be cleaned and particle deposits are largely excluded. The GMP-compatible door types of the CR Series are primarily made of stainless steel 304 or powdercoated, and conform to the international standards and guidelines for clean room applications.
Summary of the CR Series at a glance:
Custom made to size to suit
Fully Stainless steel 304 or powdercoated finishes available
Ideal door systems for clean rooms for Class 6 or Class 5
High speed action ensuring minimal air flow contamination for high traffic flow
Integral door controls and safety sensors
Smooth surfaces
Near airtight sealing, with low measured airloss over various air pressures