High Speed Doors BIM Object from Premier Door Systems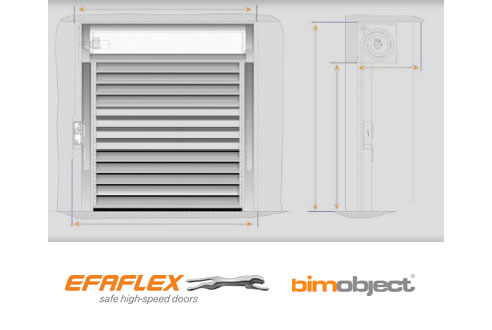 High Speed Doors available @ BIMobject®
BIM, standing for Building Information Modeling, is used by architects and engineers throughout the design, documentation and construction phases of a building project. EFAFLEX GmbH uses BIMobject® to promote and deliver their range of High Speed Doors directly into BIM processes, enabling their products to be selected and generate a real improvement in the design and specification process.
Premier Door Systems Pty Ltd, located in Campbellfield, Australia, is a long-standing partner of the German specialist for High-Speed industrial doors, EFAFLEX. This partnership helps maintain the high standards of installation and quality associated with EFAFLEX High-Speed Doors.
The objects are available in user friendly file formats like Revit, AutoCad and ArchiCad.
Search through the EFAFLEX library of BIM objects and download what you need for free. You can also easily connect directly with the manufacturer, or Premier Door Systems to receive more information, or assistance.
https://bimobject.com/en/efaflex
Premier Door Systems
For the Complete Range of Industrial Doors