Update Heritage Stables with Modern Matting from Sherwood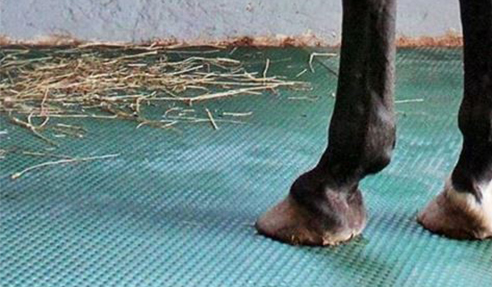 Updating historic stables that have old world charm with 2019 advanced engineered flooring is hygienic, urine & bacteria resistant, doesn't absorb ammonia, is non-toxic, virtually odourless (so no off-gassing), and, importantly, provides ultimate underfoot comfort. Enjoy the reduction of use of horse bedding, and the fact these the horse mats are designed for comfort with a micro closed cell memory structure with anti-fatigue properties.
These 4001 & 4005 horse mats do not expel air, as it just circulates within the mat as the horse moves. This provides cushioning comfort and the added advantage of massaging the horse's frogs which then stimulates blood circulation.
Today the factory design engineers know more about the required benefits of equine stable and float flooring. It's all about hygiene, safety, comfort and the horses' well-being plus quick, easy muck outs.
These horse mats are proven world-wide, and in Australia via Sherwood Enterprises being the distributor here. They are a great alternative to old-fashioned backbreaking heavy rubber mats. The mats are manufactured at a density and hardness but are lightweight, durable, hard wearing, and offer better thermal insulation.
The Eva 4001 & 4005 horse mats encourage your horse to rest, improving joint health, flexibility, and hoof quality through enhanced support of joints, tendons, and ligaments. Joint conditions, sore feet, back muscles; We can advise numerous clients have reported their horse's improvement including symptoms of laminitis. Can be installed on concrete crusher dust earth surfaces.
Visit www.sherprise.com.au for more information today.