Sound Absorbent Fabrics for Roller Blinds from Solis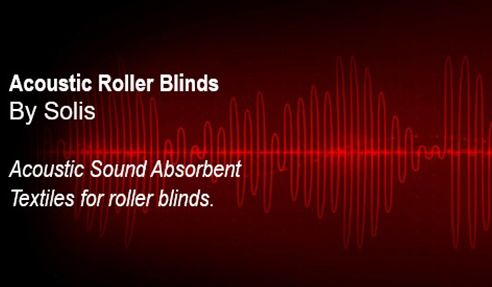 Acoustic Sound Absorbent Fabrics for Roller Blinds
Insufficient sound absorption can create difficulties with conversation which then can affect the usability of rooms.
Solis Products has now released a new range of acoustic sound absorbent fabrics, for use with Roller Blinds and Curtains
If you're experiencing issues with noise, whether it be in an office, a restaurant, hotel room or a theatre, Solis will be happy to assist in finding the solution that works for you.
With the goal of addressing noise pollution and improving room acoustics, Solis Acoustic fabrics can reduce reverberation in rooms by more than 30%. This was confirmed by tests undertaken in an in-house acoustic lab located in Monchengladbach, Germany.
The fabrics themselves are flame retardant, economically friendly and do not contain PVC, halogen or formaldehyde.
Solis Acoustic Fabrics were recently were used in the Sydney Lyric Theatre. The Acoustic blinds were installed to change the perceived size of the room without altering the theatre's acoustics.
View our website for more information.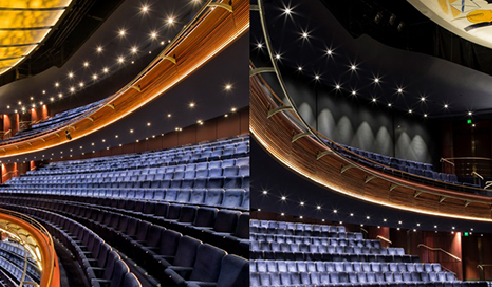 Sydney Lyric Theatre Blinds - Seeing The Light
Not only was the client's brief to make the theatre more intimate, but it also demanded what was termed a 'breathable theatre'. Deputy GM of the Sydney Lyric (and its Sydney sister, the Capitol Theatre) Paul Rigby explains; "We wanted the ability to run the theatre in different modes: a 1350-seat capacity, as well as a 1550-, 1750-, and 2000-seat capacity. Not only that, but we wanted that ability at a touch of a button. We didn't want physical walls that needed to be stored and would require considerable manpower to put in place. At the push of a button, we wanted to instantly reset the theatre to go from playing to 2000 people down to 1350 people."
"The inspiration for the solution came from looking at the blinds in my living room," Andrew recalls. "Sound goes through them, but when you shine a light on them they appear solid. That was the basis of the solution, and an almost off-the-shelf solution at that."
And this was the key: providing a change to the perceived size of the room, not the actual size of the room. Get it wrong and the acoustics would be altered and the sound design would be wrong for space.
The automated blinds mean that audiences can fill all the seats closest to the stage. There's no need to close off tiers of seating.
And because of the Continental-style design of the theatres, with the exit doors along the sides rather than the rear, the blinds don't interfere with ingress/egress.
Reference: 'Sydney Lyric Theatre spends big on bringing audiences closer.'
Story: Christopher Holder
Sydney Lyric Theatre: 55 Pirrama Rd, Pyrmont NSW or www.sydneylyric.com.au.