Cushioned Horse Stall Flooring from Sherwood Enterprises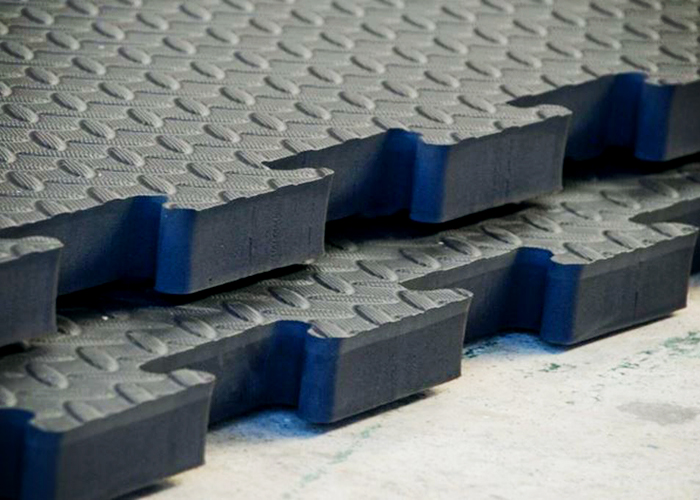 Buckaroobarn Coordinated Cushioned Horse Stall Flooring
Since 2004 Sherwood Enterprises - an Australian leading distributor in equine flooring - has been stocking & marketing equine quality flooring. Last year we introduced Buckaroobarn equine cushioned flooring that is hygienic, safe, traction/slip-resistant surface, non-toxic, and provides anti-fatigue health benefits. It features 34mm of thick cushioning for stabled horse floors and as sold to equestrians/owners, veterinary practices/clinics, horse trainers in the United Kingdom, Germany, France, Japan, Saudi Arabia, and USA.
For many horses, a stable stall is there home/bedroom for most of the day!
At Buckaroobarn we recognise the above, so we market stable stall or float flooring ranges 4003 & 4005. These are not just a solid hard mat but an innovative, purpose-engineered & designed, impact-resistant cushioned flooring that has therapeutic, anti-fatigue properties. Ideal for leg soundness/reducing leg fatigue and so a reduction in tissue fluid accumulation to provide ease of pain and add comfort to arthritic & inflamed joints. We have clients advise their horses with laminitis have benefitted with reduced pain after installing our 34mm thick our matting.
The equine performance industry reports cushioning flooring systems can eliminate stocking up & hock sores, reducing the risk of musculoskeletal disorders (MSD); The disorders of injuries or pain in the body joints, ligaments, muscles, nerves, and tendons. The comfort of the matting encourages the horse to lie down & rest more often and for longer periods of time.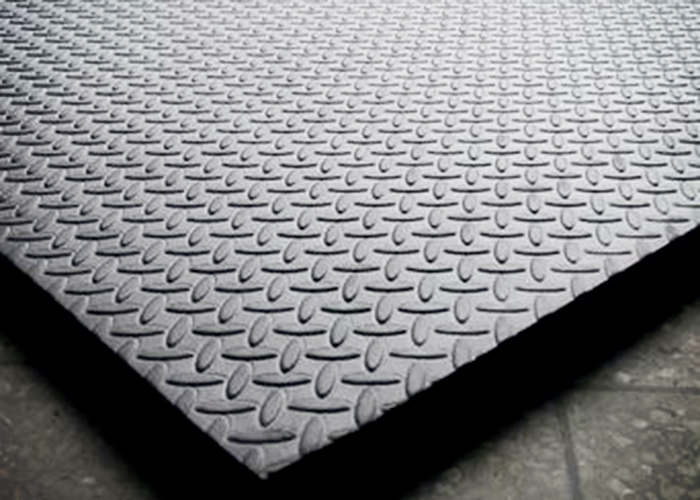 Furthermore, reduce dust build-up, and being impermeable 100% sealed matting, urine cannot enter the matting to develop into toxic ammonia or odour so pathogens, fly's, etc, breeding grounds are reduced. Importantly with 4003 & 4005 matting you can reduce your bedding usage by 50%, saving additional daily outlay.
We note from our overseas travel & research, the coordination of the semi-rigid designed diamond surface stall floor matting with same style wall matting extending 20mm thick impact cushioning to stable walls and float walls & partitions. The matting extends the horses cushioned protection against injury from hard or sharp walls and provides superb insulation properties in hot & cold weather conditions. Importantly, the wall matting is non-toxic & non-absorbing, fully sealed impermeable wall matting with good impact resistance and shock absorption plus acoustic sound attenuating properties.
The wall matting is tough plus durable featuring a closed cell memory Eva foam rubber with a density and hardness calibrated with horse stable walls in mind and for floats. Being only 7.5kg in weight and the 4005 flooring 12kg in weight, you can be sure of your horses comfort, safety, plus lower fuel bills when travelling to events.
The 4002 range of straight sided wall mats can also be used for miniature horse stall flooring or for dog mats and doggy day care centres.
Purchase today and provide your horse a stable floor & wall coordinated system. You will see, like so many horse owners globally, the numerous feature benefits Buckaroobarn stall & wall matting provides for a hygienic, impact-resistant, traction/slip resistant, dust reduction, indoor air quality, and comfortable stall system which promotes your horse's safety & well-being.