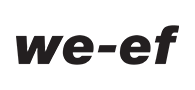 Company Profile
WE-EF are specialists in exterior lighting. It is a trusted manufacturer of high-performance exterior luminaires, combining state-of-the-art lamp and control technology with advanced optical systems and superior mechanical engineering. Established over 60 years ago in Germany, the WE-EF Group is now comprised of eight companies, in nine different locations worldwide. An extensive network of partners provides both product and service support.

'Made by WE-EF' is more than just an expression; the high quality level of in-house production processes includes:

Tooling for HPDC and injection moulding
Aluminium high-pressure die-casting
CNC machining
Powdercoating
Pole manufacturing
Assembly

Through continual investment in tooling, production processes and the ongoing education of our employees, we are able to achieve the highest standards of quality. In exterior lighting, the corrosion resistance qualities of a product are important for their reliability and longevity. A durable and reliable corrosion protection can only be achieved when Product Development and the Production Processes are considered together. Years of research, development and practical testing and experience in some of the harshest climates on earth has resulted in WE-EF's unique 5CE corrosion protection system. It encompasses five critical elements; Material, Conversion Coating, Powder Coating, PCS Polymer Coated Stainless Hardware and Process Control. Only complete systems such as 5CE can provide reliability and longevity in exterior environments.

WE-EF LIGHTING
03 8587 0400
6/13 Downard Street, Braeside, Vic, 3195
* If you would like to update the text on your profile page, please contact Spec-Net.