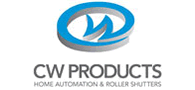 Company Profile
Why CW Products is Australia's leading supplier of Roller Shutters and Home Automation Products. If you're in the Roller Shutter or Home Automation business, you really should consider CW Products for the supply of your roller shutters, roller shutter accessories and home automation products! CW Products is one of Australia's leading manufacturers and wholesale suppliers of high quality roller shutter products. With state-of-the-art manufacturing facilities and processes coupled with nearly 30 years manufacturing experience, we take pride in supplying the Australian market with the highest quality and widest range of roller shutter products. CW Products also supplies some of the world's best automation products and solutions for awnings, blinds, roller shutters, home cinema projection screens, TV lifts and gates. We have been working with world leaders in tubular motorisation, SIMU France for over 25 years and are the exclusive Australian distributors. At CW Products we back our high quality product range with exceptional service, industry-best technical support, as well as always ensuring readily available supply of product across Australia!
CW Products
08 8341 0120
13-23 Doecke Rd, Murray Bridge, SA, 5254.
* If you would like to update the text on your profile page, please contact Spec-Net.