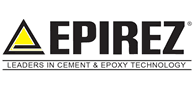 Company Profile
Epirez offers a comprehensive range of chemical construction products using epoxy and cement based technologies. The product range includes epoxy binders, flooring systems, cement based grouts and concrete repair products.

These products find problem solving applications in:
• Concrete protection and repair
• Concrete floor coatings and toppings
• Halting concrete rebar corrosion
• Machinery and rail grouting
• Structural concrete bonding
• Expansion joint sealing
• Marine concrete pile protection and repair
• Heritage building restortation
• Waterproofing concrete tanks, roofs, dams and tunnels
• Concrete wall coatings
• Mining repair and protection
• Sewer renewal

The Epirez range of chemical products are ideally suited to the industrial, mining, construction and marine industries.
Epirez
02 9757 8800
100 Hassall Street, Wetherill Park, NSW, 2164
* If you would like to update the text on your profile page, please contact Spec-Net.