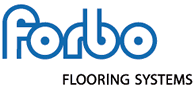 Company Profile
Forbo Flooring Systems is a global player in high-quality commercial and residential floor coverings. We focus on environmentally friendly, functional and design-oriented floors. We offer you:

● Ecological linoleum floors produced from natural renewable raw materials
● Flexible and easy installation with our Marmoleum tiles, Flotex tiles and vinyl tiles
● Flotex flocked floor covering approved by the British Allergy Foundation.
● Ultra-hard-wearing flooring with excellent slip resistant and acoustic properties
● Specialty floors for clean rooms and operating theaters
● Design floors such as Flotex Sottsass.
● Vinyl floors which look like a real wooden floor but have the advantages of strong and durable vinyl floor covering
● Applications for furniture, walls and pin boards
● Entrance flooring systems for minimizing maintenance costs and protection againts pollutants and dirt.

Forbo focus on high quality, design orientated solutions that offer low lifecycle costs, durability and world leading environmental performance. Forbo Flooring Systems is part of the Swiss Forbo Group and owns 14 manufacturing plants and branches in 32 countries worldwide.
Forbo Floorcoverings Pty Ltd
02 9828 0200
23 - 24 Ormsby Place, Wetherill Park, NSW, 2164
* If you would like to update the text on your profile page, please contact Spec-Net.