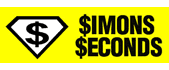 Company Profile
Simons Seconds was established in 2000 by Simon Neal. Starting as a small part time, one man business Simon Seconds has grown to be a 7 day a week business selling Factory Second Landscaping materials all over Sydney. Pots, pavers, retaining and garden walls, indoor and outdoor tiles, stone facades, garden décor all with up to 40%-70% of recommended retail prices, Simons Seconds has something for every garden. Check out our gallery pages for some of the finished results of our products. You can't even tell that these products are Factory Seconds.

Many people ask us… What is a factory second product? Has it been used previously? No.
Our "second's stock" is product that has failed to meet 100% of the manufacturers quality control measures. Some of the faults that are reported with these products include but are not limited to: chips, missing corners, cracks, air holes/bubbles, and colour or thickness variations. Stock may also differ from the products printed brochures in colour.



Simons Seconds Pty Ltd
02 9729 4483
4 Tait Street, Smithfield, NSW, 2164
* If you would like to update the text on your profile page, please contact Spec-Net.