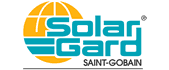 Company Profile
For more than 30 years, Solar Gard premium quality window films have been used for automotive, commercial, government and residential applications.

Solar Gard products are only available via a global network of window film professionals - trained to properly assess your needs and install the optimum product.

Solar Gard positively impacts lives with products that protect, save and renew.

Headquartered in San Diego, California, Solar Gard makes industry leading architectural and automotive window films, photovoltaics and custom coatings. A division of Saint-Gobain Performance Plastics, a subsidiary of Saint Gobain, the world leader in the habitat and construction markets, Solar Gard's architectural solar control window films are proven carbon negative and reduce global greenhouse gas emissions. Solar Gard products are sold in more than 90 countries under the Solar Gard, Panorama, Quantum® and
Solar Gard Armorcoat brands.
Solar Gard
02 9838 8888
7 Walker Place, Wetherill Park, NSW, 2164
* If you would like to update the text on your profile page, please contact Spec-Net.