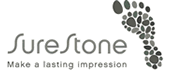 Company Profile
SureStone is the ultimate inside out flooring surface composed of natural stone encased in a high quality resin to create a seamless, hard wearing, long lasting stone flooring solution ideally suited for for Australian open plan living. Offering the the latest resin technology SureStone offers an environmentally friendly stone surface for the aesthetic enhancement of domestic and commercial environments.

Suitable for installation both internally and externally over most existing flooring surfaces, SureStone is available in a range of natural and designer colours to provide a bold, seamless finish that projects the natural qualities of stone.

Ideal for internal application, SureStone remains cool in summer, warm in winter and the unique naturalness of SureStone will enhance the ambiance of any internal room. Suitable for use with most sub-floor heating systems the natural stone used in SureStone holds the temperature of the room and with a soft massage underfoot, the smooth textured surface will make a lasting impression in any room of your home. The low allergy composition and anti-bacterial, anti-fungal properties, make SureStone flooring the ideal alternative to carpet and being impervious to most household spills, the stain resistant surface is easily maintained to ensure a long wearing finish for many years.
SureStone
1300 851 523
Melbourne, Vic, 3000
* If you would like to update the text on your profile page, please contact Spec-Net.