Shadow flooring finish from SureStone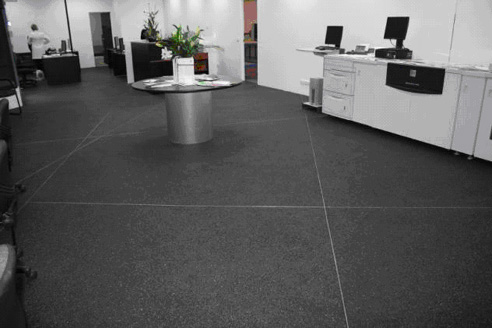 Hot on the heels of the recent SureStone public launch SureStone flooring has taken pride of place in the new graphics design studio for Graphics Unlimited in Melbourne
As part of recent corporate make over the designers at Graphics Unlimited were sold at first sight with the bold and unique flooring characteristics of the SureStone flooring which offered them a unique and functional flooring design.
Installed to 180 m2 of open plan office encompassing reception and the design studio the Shadow SureStone flooring finish is highlighted by the use of brass strips to provide a modern and extremely functional flooring surface suitable for any commercial and retail environment.
Interested in genuine customer feedback or would like to see the flooring in action?
If so the Melissa at Graphics is more than happy to discuss their flooring experience and even assist you with your ongoing corporate design needs. So please give them a call:
Graphics Unlimited
7 Brand Drive
Thomastown VIC 3074
ph: 03 9465 9522
fax: 03 9464 0686
Want to know more about SureStone?
Visit www.surestone.com.au to browse or go direct to our FAQ Page - www.surestone.com.au/faqs
Are you a designer and would like samples and further information?
E-Mail direct to design@surestone.com.au
Are you a contractor wishing to register as an installer?
E-mail direct to contractors@surestone.com.au