Stone and Resin Flooring from SureStone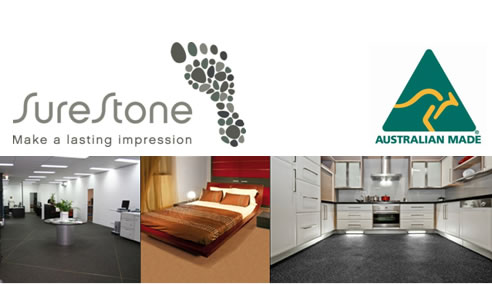 Omnicrete are pleased to announce the recent public release of
the SureStone flooring system.
Formally released to the design, commercial and retail sectors in the last 6 weeks SureStone has been a huge success with over 5000 m2 of flooring currently being installed across Australia by a network of experienced contractors.
Recently showcased at the Herald-Sun Home show in Melbourne the public enquiry level for the SureStone flooring system was overwhelming with hundreds of genuine enquiries received from a hugely enthusiastic audience.
So What is SureStone Flooring?
SureStone flooring is a mix of natural stone encased in a high quality resin to create a seamless, hardwearing, long lasting stone flooring solution. Suitable for installation over most existing flooring surfaces, SureStone provides a bold, seamless finish that projects the natural qualities of stone. Cool in summer and warm in winter, the unique naturalness of SureStone will enhance the ambience of any room. SureStone holds the temperature of the room and is suitable for use with most sub-floor heating systems. With a soft massage underfoot, the smooth textured surface will make a lasting impression in any room of your home, boutique, retail store or office complex.
The low allergy composition and anti-bacterial, anti-fungal properties, make SureStone flooring the ideal choice for dry and wet area alike. Impervious to most household and commercial spills, the stain resistant surface is easily maintained to ensure a long wearing finish for many years.

So what is special about SureStone flooring?
SureStone flooring is unique for a number of reasons:
Australian Made and formulated for the local market.
Backed by a 10/15 year Warranty
Available in a range of natural and designer colours.
SureStone is a designer floor now available in retail packs direct to the public.
Available in an open and closed texture format to suit any surfacing environment.
Suitable for both internal and external use.
Contains antibacterial and anti fungal inhibitors ideal for wet and food grade areas.
Compliant with the following Green Building Council of Australia specification requirements.
- Green Star Office Design V2 IEQ-13
- Green Star Office Interiors V1.1 IEQ-11
- Green Star Office Design V3 IEQ-13
Want to know more?
Visit www.surestone.com.au to browse or go direct to our FAQ Page - www.surestone.com.au/faqs
Are you a designer and would like samples and further information?
E-Mail direct to design@surestone.com.au
Are you a contractor wishing to register as an installer?
E-mail direct to contractors@surestone.com.au

FREE CALL 1300 851 523