Permeable paving solutions by Atlantis Water Management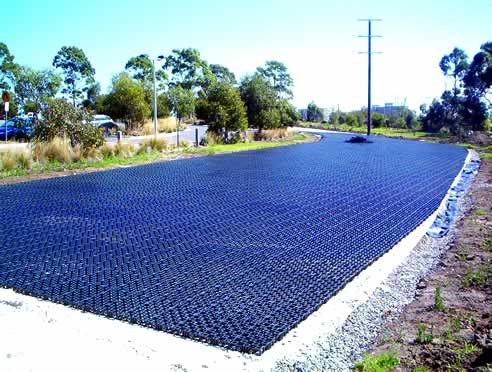 The Turf Reinforcement System installed as a green car park at The Victorian Hockey Centre is a good example of Atlantis' Turf Cell and its successful application in turf reinforcement.
Traditional Urban Carparks & Driveways
In urban areas approximately 70% to 90% of building sites are paved to accommodate car parks. Most car parks are constructed from impermeable concrete and bitumen materials. These materials retain a vast amount of heat, raising the temperature around buildings and contribute to the depletion of the Ozone layer.
Reinforced Grass Carparks & Driveways
Designed to house and protect grass Turf Cell® It is the only product available that allows both horizontal and vertical root growth. Unlike concrete systems the roots remain cool and grass growth thrives. Driving vehicles onto the grass has no effect on the protected roots. Aesthetically the product allows the grass to fill in completely creating a lush lawn with an invisible reinforcement structure.
The environmental benefits of the Turf Cell include:
Convert impervious pavements to previous, drivable surfaces.
Reduce storm water runoff by up to 90%.
Assist in erosion control.
Retention of soil.
Stabilisation of soil.
Reduce heat island effect.
Encourage infiltration to improve water quality.
Improve aesthetics.
Constructed from 100% recycled plastic.