The Matrix II rainwater tank from Atlantis Water Management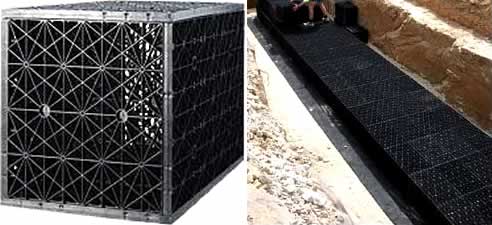 The Atlantis Tank Modules are suited to any subsurface infiltration or retention applications. Manufactured using recycled materials, the Atlantis Tank Module is a lightweight structural component developed through years of research & development.
It is ideal for the construction infiltration tanks, re-use tanks, sub surface channels and lightweight void spaces for rooftop gardens and planter boxes.
The Atlantis Ecological Systems use surface and sub surface infiltration techniques that result in clean water that can be reused or allowed to re-enter the natural water system. The modular Atlantis Rainwater Tanks offer a highly efficient option for storm water management in any kind of soils.
The Atlantis Rainwater Tank Systems excel when there is a requirement to achieve high water quality, particularly in the effective removal of nutrients and gross pollutants. The system offers a unique solution where no utility based drainage system is available. In addition to the obvious environmental benefits the sub surface location of the tank system provides more useable space and an enhanced aesthetic setting compared to above ground concrete or plastic tank. The design of the system successfully augments any landscape feature by providing an enduring moisture supply.
The Atlantis Rainwater Tank Systems can be categorised into infiltration and reuse applications. The main system components are the Storm water Filtration Unit, Atlantis Geotextile, Atlantis EcoSoils and Atlantis modules (D-Raintank). The following descriptions summarise the infiltration and re-use systems.