VersiJack® by Elmich - easy low cost decking support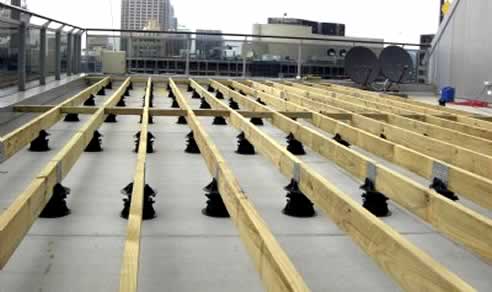 VersiJack are high strength adjustable plastic decking supports. VersiJack support beams and decking at heights ranging from 75mm to 1000mm. VersiJack are easy to install and are more cost effective than brick and metal piers. VersiJack are not mechanically fastened and allow easy access to waterproofing membranes and services under decking. VersiJack will support 1500 kg's and an adjustable head compensates for slopes up to 5%.
Advantages
Infinite adjustment.
Lower cost than brick and metal piers.
Access to membranes and concealed services.
Membranes not penetrated.
Rapid and easy installation.
Applications
Balconies and patios.
Decks and podiums.
Pool surrounds.
Courtyards.

Angel Place Pitt Street, Sydney
VersiJack units were positioned onto the waterproofing membrane without mechanical fastening. VersiJack batten supports cater for 50-75mm wide joists that are mechanically fastened to the batten support.
Joists were anchored to the perimeter wall edges to ensure stability of the decking.
Science Technology Park Phase 2 Hong Kong
Six thousand VersiJack units supplied by Keytech, Elmich's Hong Kong distributor, effectively support decking at the Science Park Phase 2 development in Hong Kong.