Magnetic Automation - Pedestrian Access Control & Half Height Turnstiles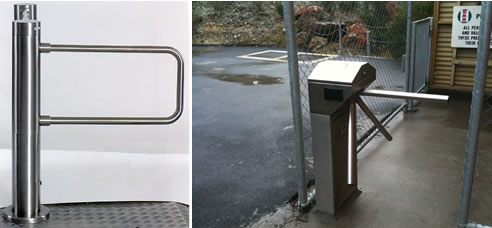 MPP Series and MPS Series Pedestrian Access Control
The MPP Series is designed to control pedestrians entering or exiting restricted areas, usually under surveillance, in low security situations. Personal surveillance is therefore recommended as the barrier can be breached.
The barrier consists of a rotating centre, at 3 x 120 degrees, providing single access through steps 1 x 120 degrees. The operation of the barrier allows for controlled bi-directional pedestrian flow and is capable of blocking in either direction or free rotation in either direction.
The MPS Series is designed to control pedestrian access in basic security applications with surveillance. It may also be used as supplement to other Magnetic pedestrian gates, in particular to provide passage for wheelchairs and for persons carrying large items.
The MPS pedestrian gate consists of a tube with two or three brackets for mounting barrier elements. These can be standard elements, glass or customer-specific elements. The MPS Series can be used in bi-directional applications to control the entry and exit with only one gate.