Strand woven bamboo flooring by Preference Floors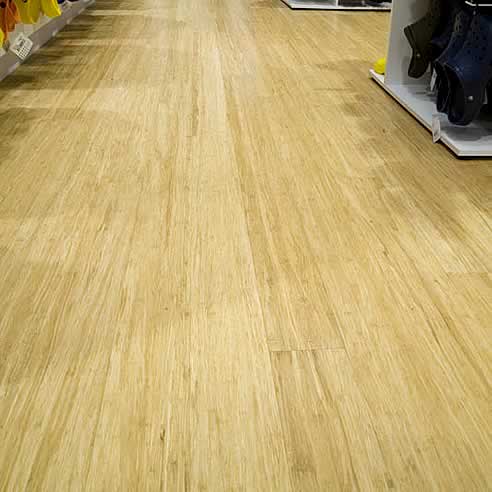 Strand woven bamboo floor boards are high quality, high density, solid bamboo. The finished boards have the look and feel of traditional hardwood floors but made from a renewable resource - bamboo, which is a grass grown plentifully in China.
The strand woven bamboo is the next generation in hard flooring.
How is it made?
Bamboo is harvested at the age of 4-5 years from Government controlled forests in China. Not long after cutting it is subject to processing:, it is cut roughly to length, outer edge is removed, knots are ground down and it is split by machine. After insect retardant treatment the strands are air dried. Some are them are carbonised to produce coffee-coloured strands. The strands are coated in low VOC adhesive then are compressed using high compression pressing machines.
The resulting boards are dried, precision milled cut into boards, tongue and grooved and coated using high quality Klumpp coatings.
The factory uses proprietary patented technology to produce the strand woven bamboo flooring and the factory will continually enhance and strengthen its patents.
Others have tried to copy the strand woven process but have either failed, been prosecuted or produce an inferior "copy" that lacks the structural integrity of our product.
The uniform compression of the strand woven technology is part of the special process incorporated by the factory to get a consistent compression.