The ElectroChlor LCD by Waterco - self-clean chlorinator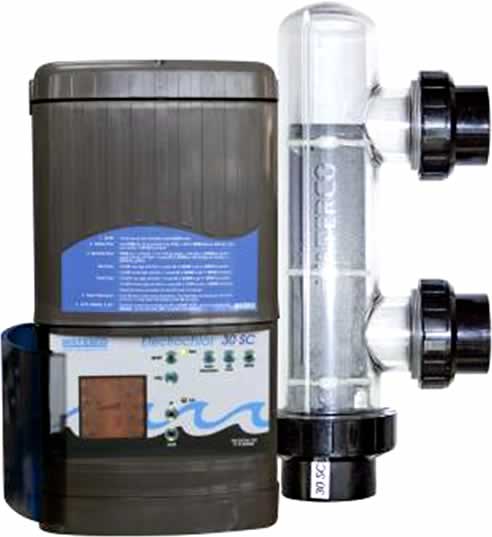 The new Electrochlor LCD 25A & 30A SC self-clean chlorinator comes with a new improved LCD power pack.
Ease of Use
Large backlit LCD provides easy viewing during night and day. Its clearly marked keys ensure ease of programming.
Pool Monitoring
The chlorinator's power pack monitors the pool salt and chlorine level. Plus an in built pump protection program safe guards the operation of the pool pump.
Advanced Programming
Programme the chlorinator timer to turn on or off at any time that suits your lifestyle. Its 7 Day timer allows for settings on week days, week ends, any day, all days operation. 3 program settings are available.
Adjustable Chlorination
Chlorine production can be adjusted to reflect the different seasonal requirements in order to maintain satisfactory chlorine sanitizer levels.
Super Chlorination is available at a press of a button. During super chlorination, chlorine is produced for 24 hours to boost up the pool's chlorine level.
Innovative Chlorinator CellThe cell housing is constructed using clear U.V. stabilized acrylic. Both anode and cathode of the self-clean chlorinator are made from uniquely coated titanium mesh to add extra durability and life.
Threaded connections for quick connection to pipe work.
Improved hydraulic and cradle design to minimise calcium build up.
Increased cell surface area and optimised current density.
Chlorine production at a minimum salt level of 4000 ppm.
Titanium coated flat plate design to improve cell life.
Maximum working pressure of 4 bars.
Brass pin quick connectors for quick simple removal of the cell.
Watch our latest MultiCyclone product video on You Tube: Click Here