Rainwater Harvesting Tank Installation from Atlantis Corporation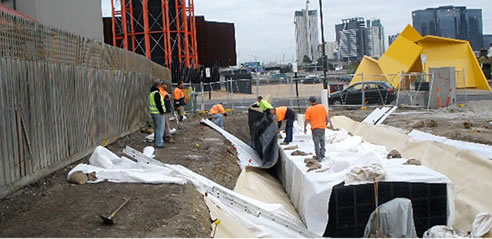 Rainwater Harvesting Case Study
Grant Street Reserve, Victoria AUSTRALIA
Atlantis Corporation participated in several stages and aspects in this extremely innovative project. The technological elements used in the project due to the adaptability of the products were amazing, which also result in the use of an important part of the atlantis range of products, increasing the effectiveness of the initial design.
The project was designed by the Engineering Consultants Lambert & Rehbein, but was also complemented with the experience and application knowledge that Atlantis has.
Not only was Atlantis product used in the installation, but Atlantis also provided important technical inputs in the actual design of the system in order to achieve the project objectives and also serving in an advising and supervising capacity for the installation of the Rain Water Harvesting Tank. This was also done in cooperation with Delta Group's engineers and crew on the installation. Atlantis with its extensive network of partners in the industry also provided supervision services for this very technical installation through its trusted working partner from Queensland, Kennedy Projects Group.