RAM BOARD Temporary Floor Protection Available from Altamonte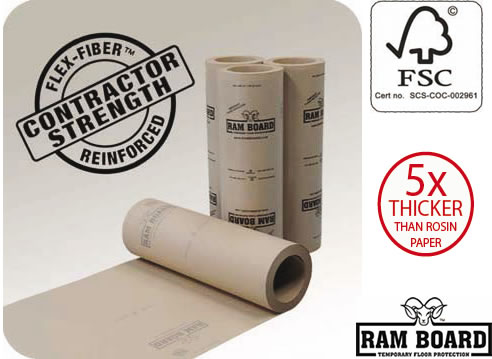 RAM BOARD Temporary Floor Protection
Ram Board is a heavyduty temporary floor protection engineered for Contractors. Designed with cost and efficiency in mind; it lays out fast and flat, is nonstaining and re-usable.
It provides heavyduty protection for both new and existing floors. It protects concrete, wood, tile, stone, linoleum, vinyl composition tile (VCT), epoxy and most other floor types. When protecting freshly poured or stained concrete or recently installed flooring, proper curing and breathability are critical.
The designers of Ram Board worked with engineers, architects and contractors in developing it's Flex-Fiber™ technology. This proven technology gives Ram Board the perfect balance of vapor-permeability and density allowing for the proper curing of new floors while providing a thick heavy-duty layer of protection.
Ram Board protects projects for Bass Pro Shops, The U.S. Embassy, Oakley, AT&T, Wal-Mart, Kroger, Extreme Makeover Home Edition and thousands of other jobs.
CERTIFIED GREEN PRODUCT
Ram Board is committed to being good stewards of the environment. We have met the high standards of the FSC certification process and have been approved by the Scientific Certification System. In addition to green practices we employ at our facilities, our product is composed of 100% recycled components and contains a minimum of 90% post-consumer material. When its use on the jobsite is finished, Ram Board can be re-used or recycled making it a smart green choice.