Braille Signs for Exterior Use from Hillmont Braille Signs Sydney

Braille Signs, with their combination of wording, symbols and raised bumps, allow vision impaired individuals the ability to identify various obstacles in their path.
If your facility has an eating area, waiting rooms, changing rooms, mail room or any other room that is specified by standard regulations, you must have a Braille sign.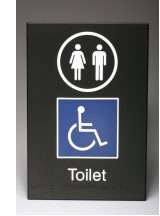 Hillmont Braille Signs is one of the most successful and innovative manufacturers of Braille in Australia and has been manufacturing and supplying Braille/tactile and general signage solutions for over 15 years from our Northwest Sydney location (now based at Castle Hill).
High profile projects include the award-winning wayfinding system at the University of Sydney, many of the facilities for the Sydney 2000 Olympics as well as the Epping to Chatswood railway and Braille signs inside the new Oscar railway carriages.
Suitability for exterior use
All of our acrylic signs are made from UV stable high impact acrylic suitable for internal and external use as well as the aluminium, stainless steel and brass signs. Note brass will eventually tarnish and require on-going maintenance.
Durability
They are stand-alone signs (not a laminate) able to be mounted directly to any flat surface without the need for a backing plate. The Braille is pressure inserted into pre drilled holes and solvent bonded and the symbols and text are all solvent bonded to the surface of the sign ensuring a permanent bond. We also use die punched aluminium which is great for high traffic areas including railway carriages and the like. All our signs are highly resistant to vandalism and the elements.
Made in Australia
All of our custom made signs are locally manufactured at our Castle Hill, NSW factory and is compliant with the relevant standards.
Samples can be provided as well as fast turnaround services for toilet signs; http://www.spec-net.com.au/press/0813/hil_070813.htm visit http://www.hillmontbraillesigns.com.au/