Insulated Vinyl House Cladding from Austech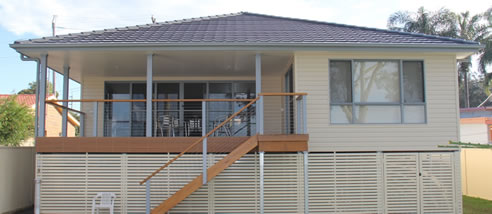 Duratuff Select Vinyl Cladding utilised on a home is a finalist
at the Building Designer Australia 2014 Design awards.
A recently built new home on the Central Coast of NSW at Buff Point, designed and project managed by Harris Building Design Services, entered into the Building Designer Australia 2014 Design Awards and became a finalist in two categories. The original home had issues with Mines Subsidence, Flood Prone Land and High Water Table. The new home is a single storey elevated custom designed home with four bedrooms, two bathroom and double garage.
The home owner selected Duratuff Vinyl Cladding in the colour Soft Maple for its 50 year warranty, thermal properties and low maintenance product . Additionally chosen was 30mm insulation on the back of the cladding to help keep the home cool in summer and warm in winter. Duratuff is available in a range of profiles, 10 Standard Colours and 2 vibrant options from the "Colourscapes" collection.
Austech's range of Duratuff Select Vinyl Cladding makes an appealing, economical, attractive choice to home owners and businesses alike. Visit Austech today to find out more or view this product or simply make an enquiry.