Multi-Directional Roof Expansion Joint by Unison Joints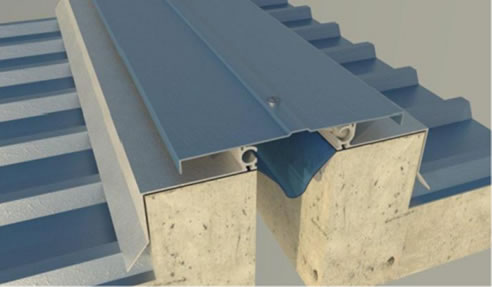 Multi-directional roof expansion joints relieve the pressure and stress on the building's roof system caused by structural movement. Left unprotected, roof systems can be compromised by subsidence, causing structural issues and unsightly crack lines. Roof expansion joints are commonly installed in areas parallel to where the structural movement joints are located.
The SeiMax R from Unison Joints offers a multi-directional roof expansion joint. It has a ridge-cap shaped aluminium cover plate system with a centre bar type coupling. Unison Joints utilises the centering bar system which consists of two wear resistant spheres attached at both ends of a flat composite or steel spring bar. This centre bar acts as lubrication free bearings which reduce the impact on the aluminium tracks.
The multi-directional roof expansion joints accommodate horizontal, diagonal and vertical structural movements without causing damage to the surrounding roofing system. They also prevent deformation on the cover plate or the shearing of screws that holds the system together.
SeiMax R multi-directional roof expansion joints are available in roof to roof, and roof to wall design applications. The cover plate system can be powder-coated to a variety of colours that best fit the project specification.
SeiMax R comes with an optional water seal for maximum protection against water penetration through the roof slab joint. Drainage spigots are also available as an accessory item. Aside from its optional water seal; SeiMax R can also be supplied with a fire rating feature to maximise the roof expansion joint functionality, safety and security.

Please be advised that Unison Joints is unaffected by COVID-19 as our manufacturing products are not sourced from China.