Fly Screens for Paarhammer Windows and Doors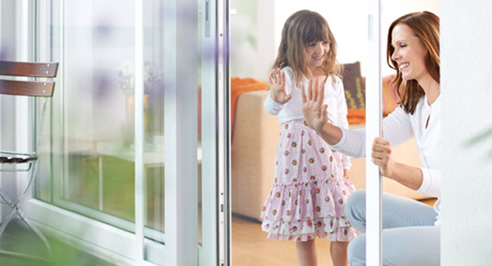 Keep Flies Outside with Paarhammer Fly Screens
In joking, the Australian salute or greeting is a wave of a hand in front of ones face. Why? Flies of course! They serve an important role in our eco system but are annoying and we generally don't want them in the house.
As Paarhammer windows open to the inside, we often get asked "what about a flyscreen?" The answer is easy - the flyscreen is fitted to the outside of the window or door.
Depending on the product range, Paarhammer removable flyscreens are either made with a timber frame in the same colour as the outside of the window or for the Wood-Alu range, the flyscreens are made with an aluminium frame.
Different flyscreen mesh will keep your home free of flying critters, but if you are in a bushfire area, the screen must be stainless steel in order to catch flying embers. The standard mesh at Paarhammer is aluminium with fibre glass or pet mesh an optional alternative.
Paarhammer lift-slide doors can be fitted with a sliding screen with a timber frame or a retractable screen while bi-fold doors always have retractable screens if a screen is needed. There are several companies producing a variety of retractable screens with a wide range of frame colour, mechanisms to retract the screen, and threshold designs.
Should you choose your doors (hinged, French, bi-fold) to open to the outside, the flyscreen door is mounted on the inside. Retractable screens can also be ordered directly from the supplier and mounted at a later stage.