Balustrade Glass Location Blocks from Axiom Group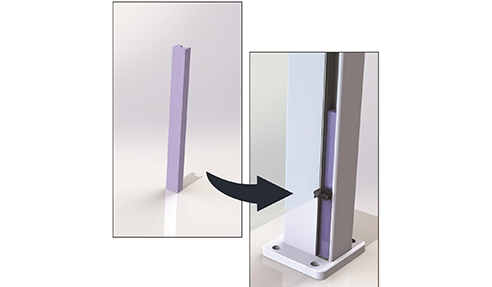 New Glass location blocks
As our range grows and our commitment to continual improvement is embraced we are constantly designing new products to make installation of Axiom systems even easier!
Over the past few months, there have some reports of glass dislodging from balustrade glazing posts. We recommend that you check previous projects to ensure you have followed the blocking requirements set out in AS1288 and remind you that compliance with AS1288 is essential.
We are pleased to announce the introduction of the newly improved location blocks for all our glazing posts.
The advantages of these blocks are:
They will better prevent glass movement if correctly installed.
They have been designed for simplicity.
If you have a past or existing project with inadequate blocking, you may retrofit these new blocks.
These blocks have been designed to allow glass cover within the post 10mm for 10mm Glass, we recommend a minimum of 2mm extra cover than what it is set out in AS1288. Below are the blocks now available and the relevant post to use them in:
ABB20 Block used in the AFGEC Post
ABBAFG Block used in the AFG Post
ABB12 Block used in the APR, APE & APQ Posts
ABB6 Block used in the AFGEC, AFGIC, AFG35, AXR, AXRC Posts
Contact the ever friendly Axiom sales team or visit www.axiomgroup.com.au.
For more information on AS1288 Location, Blocks click here.