Bellis Corrosion Control with Trenton Wax-Tape® Wrap System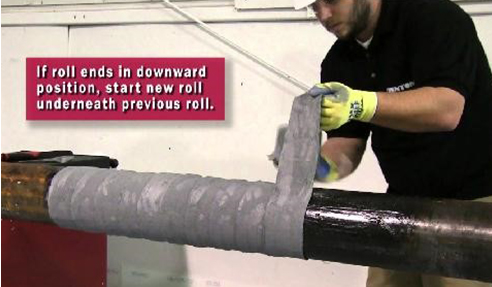 With over four decades in the industry, Bellis Australia has garnered substantial experience and expertise in the multiple disciplines of corrosion control services. Bellis provides a complete protection system including the globally renowned Trenton Wax-Tape® Wrap System, utilised in conditions close to water, above and below ground.
Easy to apply with minimal surface preparation, this complete corrosion control system involves basic operator training and a wire brush, without the need for special or complicated tools.
The system incorporates primer, wrap, and outerwrap for pipeline rehabilitation or ongoing corrosion prevention projects.
Trenton Wax-Tape® Corrosion Control Wrap System
Wax-Tape® #2 Anti Corrosion Wrap
Built with microcrystalline wax and solvent imbued to a thick, nonwoven, synthetic felt-type material with no siliceous mineral fillers; Wax-Tape #2 Wrap provides optimum protection that is non-stick and resistant to UV. Generally useful when dealing with pipe fittings or bolts, which are prone to corrosion growth.
Wax-Tape® #1 Anti Corrosion Wrap
Similar with Wax-Tape #2 Wrap, Wax-Tape® #1 contains no fillers, offering the same level of protection to steel substrates. Ideally used for underground applications and under insulation (to prevent CUI).
Temcoat™ 3000 Primer
Temcoat 3000 provides corrosion protection in harsh environments. Unlike other anticorrosion wraps, the surface does not need to be dry during application; the primer removes moisture and bonds to the pipe's surface.
HT-3000™ High-Temperature Anti Corrosion Wrap
For hot applications, Bellis provides the Trenton HT-3000™ High-Temperature Anti Corrosion Wrap to the Australian market. It can operate around high-temperatures up to 110°C, and can be used above or below ground.
MCO™ Outerwrap
Quickly cures hard surfaces in case further mechanical protection is needed. This outerwrap acts as a reliable barrier against mechanical damage.
Visit www.bellis.com.au to know more about Corrosion Control with Trenton Wax-Tape® Wrap System.