Commercial Interior Design Sculptures by Di Emme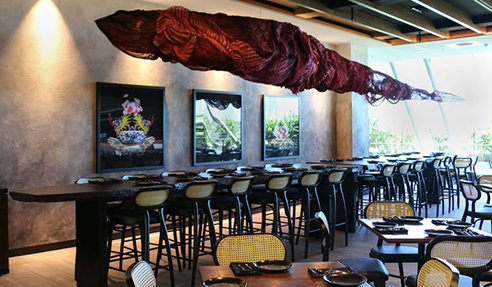 Di Emme is an innovative studio that takes pride in their creative team, filled with dedicated artisans and craftspeople, and working in conjunction with major designers and architects to bring to life the best commercial interior design sculptures in Australia. The team excel for their diverse skills in fibreglass moulding, carpentry, sculpting, metalwork, and much more.
As a testament, Di Emme has been employed to provide an interior silk sculpture at Nu Bambu, Canterbury Hurlstone Park RSL. The restaurant is known for its unique Asian-fusion cuisine and offered in a distinctive space.
To further enhance the character of Nu Bambu's interior Di Emme crafted an impressive crimson sculpture which incorporated the use of an 8-metre wire armature, carefully wrapped in a Shibori-dyed fabric, and creatively illuminated to emphasize the interior frame. The impressive crimson sculpture is formed by hand-trowelled Marmarino with a tinted wax plus precise gradations in tone and colour add surface authenticity.
From concept to creation, Di Emme is highly passionate, collaborative, and inventive. Contact Di Emme to learn more about their range of commercial interior design sculptures or visit www.diemme.com.au today.