Braille on a Budget to Meet Your Deadlines from Hillmont Signs Sydney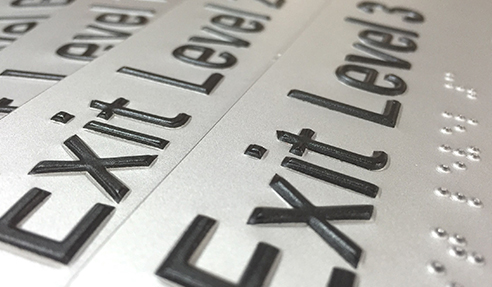 Braille on a budget to meet your deadlines from Hillmont Signs Sydney
Hillmont Signs provide a budget range of AS1428 and BCA compliant polycarbonate Braille signs which are readily available in a variety of standard stock. These are a cheaper alternative to the manufactured Braille signs with the benefits of a quick turnaround and are supplied with peel-off adhesive on the rear.
Starting at 190mm x 190mm they can be supplied as is or mounted to a substrate such as aluminium or stainless steel.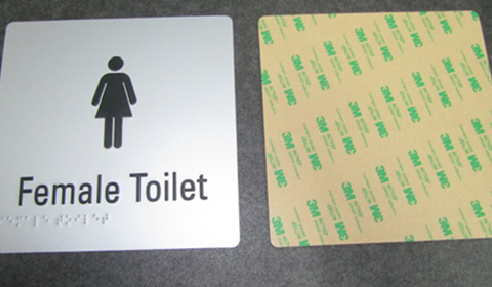 General Braille requirements
All of Hillmont's Braille Signage is designed in Australia to meet and exceed requirements for Braille and tactile signage applications. Braille signage Clause D3.6 of the BCA requires the Braille and tactile signs are utilised in all buildings other than private residences for sanitary (toilet) facilities, and to indicate accessibility to entrances and lifts. Toilet signs are to be located on the wall (not on the door), on the hardware (door knob) side, with the line of Braille between 1250mm and 1350mm above floor level, at least 50mm from the jamb. If this is not possible, it should be located on the hinge side. If that is not possible, it should be located on the door. Directional Braille and tactile signs should be located at the same height, directly ahead in the direction of travel. Each plate consists of embossed tactile design, text and braille lettering. The tactile components use standard imagery and fonts to ensure vision impaired non-braille readers can decipher the sign. The standard braille locator symbol is on the left-hand side of the plate in line with the Braille elements.
Hillmont Signs is one of the most successful and innovative manufacturers of Braille in Australia and have been manufacturing and supplying Braille / tactile and general signage solutions throughout Australia for over 20 years from our Northwest Sydney location (now based at Castle Hill).
High profile projects include the award-winning wayfinding system at the University of Sydney, many of the facilities for the Sydney 2000 Olympics as well as the Epping to Chatswood railway, Rural Railways and Braille signs inside the new Oscar railway carriages.
For more information on Braille Signage, please visit www.hillmontbraillesigns.com.au.