Elegant Patio in Canberra with Sottezza Conservatory Awning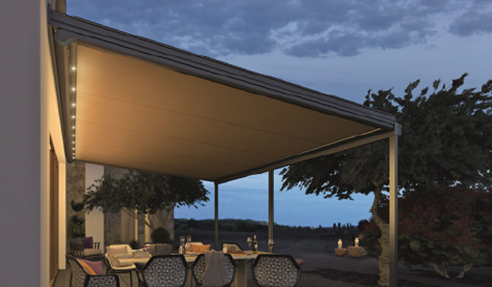 No patio in Canberra would be complete without a cozy and sophisticated Sottezza Conservatory Awning from Blinds by Peter Meyer. Its distinct, elegant, and sleek finish provide a relaxing outdoor ambience with flair, establishing a casual and warm connection between the guests and the natural scenery of the capital city of Australia.
Found between Sydney and Melbourne by car, Canberra is home to about 390,000 people. Its picture-perfect landscape plus distinct seasons (spring, summer, autumn, and winter) promote a fun and outgoing lifestyle for locals and tourists alike.
Blinds by Peter Meyer is proud to bring the Sottezza II Conservatory Awning to Canberra. Engineered with the finest materials and latest technology, the Weinor-made awning has found continued success in optimum outdoor relaxation settings without compromising on function and elegance.
The Sottezza awning guarantees an ideal and maintained climate. Its stylish design offers optimum glare protection and prevents the penetration of harmful heat and UV rays. The Sottezza 2 is designed to be installed under a glass roof or skylight however other alternative solutions are available for above mount options. If an external solution is required we would recommend using the WGM Top - also available in "Stretch" and "Optistretch versions"
Sottezza II Technical Trademark
Weinor Fabric Collections - The Sottezza awnings are made with high-quality polyester or acrylic fabrics. With a Teflon fabric coating and the latest nanotechnology, the Weinor fabrics provide superior colour finishes that stand strong against UV rays, outdoor dust and chemicals. This awning is available in a choice of 155 fabric patterns and 56 frame colours.
Rope Clamping System - Sottezza Conservatory Awning incorporates a well-founded rope clamping system that allows easy installation, saving ample amount of labour cost and effort. This system also ensures a seamless installation of Weinor fabrics.
Stretch and OptiStretch Versions - The fabric of Sottezza II OptiStretch is installed securely on all four side channels (like a zip) while the Stretch version has its fabric firmly clamped on two sides. This automation secures an even fabric positioning without hanging or saggy edges.
LED Lighting - To further enhance the elegance of Sottezza conservatory awning, Blinds by Peter Meyer also offers a LED lighting in the cassette, which subtly blends into any patio roof design.
For maximum convenience, the Sottezza awning is controlled by the finest cutting-edge technology from Somfy Motorisation. The awning is also backed by Peter Meyer's 5-year warranty.
For more information about the Sottezza Conservatory Awning in Canberra, contact Blinds by Peter Meyer or visit www.petermeyerblinds.com.au today.