DecoWood Daybed Wows The Block 2020 Judges by DECO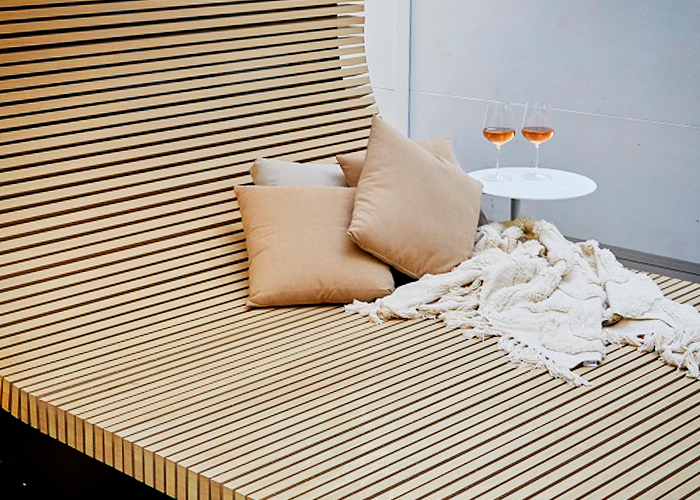 DecoWood Daybed Wows Judges on The Block 2020
DECO Australia's leading range of DecoWood® aluminium battens has dazzled The Block's judges in the final week of the show's room reveals for 2020. This episode featured House Four contestants Luke and Jasmin's extravagant backyard, including the luxurious daybed constructed from DECO's durable, timber-look battens. Mixing the house's 1910s heritage and Luke & Jasmin's contemporary, coastal style, their backyard was considered a huge success by the judges, scoring a massive 29.5 points out of 30.
Complementing the home's many unique features, the visually striking DecoWood® daybed is a standout design which curves up and over to create a modern and luxurious place to escape in this quintessential Brighton beach home. The pair opted for DECO's new 25mm x 75mm designer batten series, which offered a super light-weight and easy-to-install option with no visible fixings or screws thanks to DECO's unique 'Quick Click' two-piece DecoBatten design.
The DecoWood® marine-grade powder coat finish in natural Curly Birch offered the beautiful, low-maintenance timber appearance that never needs painting or staining, with the added durability required in Brighton's coastal environment. The DecoWood® daybed wowed all the judges and was much-admired by interior designer Shaynna Blaze stating: "I've got my mind blown." As Shaynna took the time to try out the daybed she commented on how surprisingly comfortable the battens were.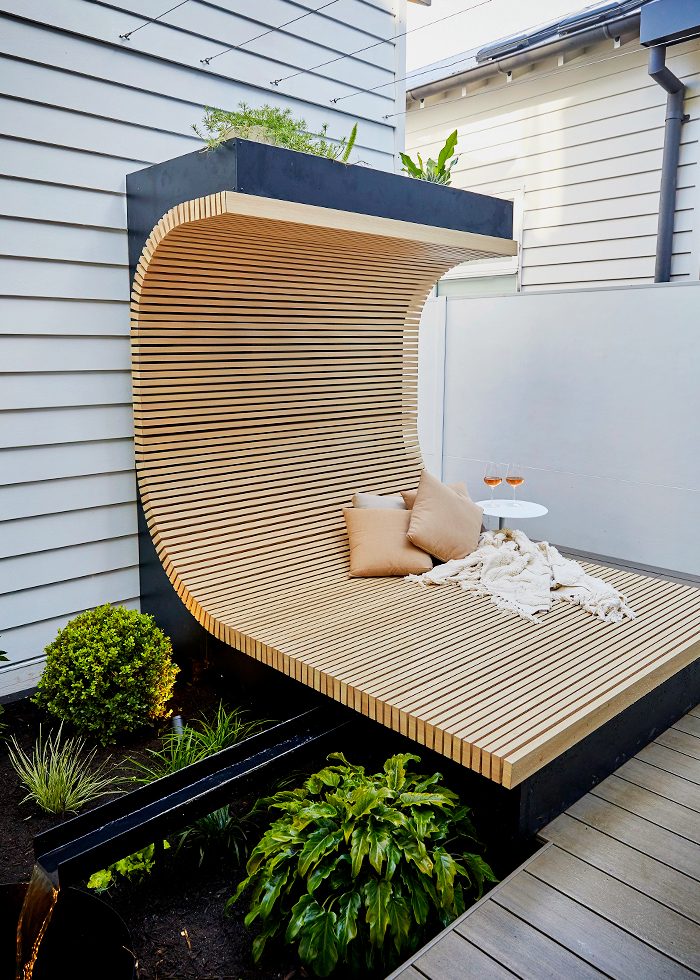 The architectural daybed, designed by COS Design, was influenced by curves and Zen - creating the perfect spot to sit and relax.
"From the buyer's perspective, you're not gonna forget this house. When you come to have a look at it, you're going to remember the house that had the massive daybed," said interior designer and The Block judge, Neil Whitaker.
DECO's range of Super Durable™ DecoWood® timber-look aluminium building products are proudly designed and made in Australia. The product range includes cladding, battens, bushfire-safe decking, DIY fencing, and screening, as well as a range of internal products such as timber-look aluminium floorboards, ceiling panels and even a wide range of on-trend kitchen splashbacks.
For more information about DECO's range of solid aluminium DecoWood® building products visit www.deco.net.au, call, or visit their brand new display centre at Airds Rd, Minto.