Elegant acrylic awards by Architectural Signs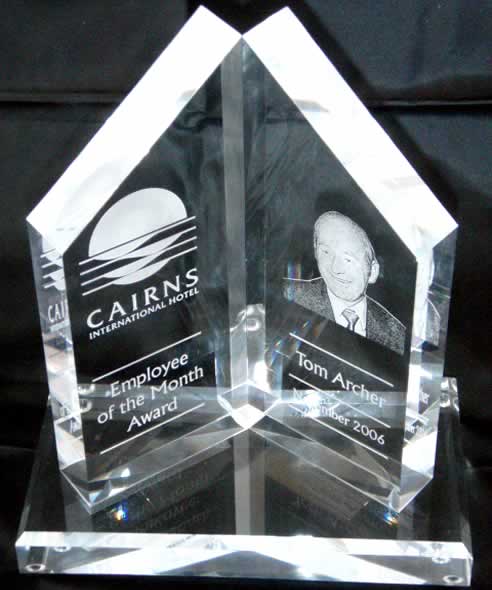 This outstanding custom designed laser etched award is manufactured from (25mm) thick wedges of acrylic, providing an incredibly high quality finish that will look opulent as it stands proudly in an indoor display for many years. So versatile:- suitable as a commemorative tribute to celebrate the opening of a new building, dedicated to an individual (as pictured); or alternatively can be used in many promotional applications for branding purposes within a display centre or trade show.
This unique acrylic tribute/award, accommodates a laser engraved Company logo on one side in addition to a photographic image, such as the image of a new building or a portrait of the recipient on the other (suitable high resolution images must be provided by the client in EPS, Complete Camera ready artwork).
Four Sizes Available:
Mini (150mm x 185mm x 20mm),
Small (180mm x 250mm x 40mm),
Medium (200mm x 275mm x 40mm),
Large (240mm x 330mm x 40mm).
Please call Liz Green - to discuss your requirements (obligation free). We are specialist engravers and offer many different products.
Please visit our web site to see the range of products available www.arcsigns.com.au