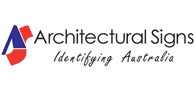 Company Profile
Since 1979, Architectural Sign Industries has continued to strive to be innovative and customer focused - to such an extent that we are now recognised as Australia's largest trade engraver.
Our Clients
Biggest doesn't always mean best! However, in our case being the biggest does result from being the best at what we do. Our long-term clients, both large and small, agree. Some of our best work could be for companies you may never have heard of - or, it could be for some of Australia's highest profile, most successful companies, including McDonald's Family Restaurants, Gloria Jeans Coffees, The Sydney Opera House, Westfield Shopping Centres and Corporate Express.

Even if we haven't worked together before…you have probably already seen our work!


Of course, our existing styles are usually the most cost effective - however if you have something special in mind, please contact us and we can custom design and manufacture to exactly meet your needs.

Architectural Signs
02 9680 2151
28/8 Victoria Ave, Castle Hill, NSW, 2154
* If you would like to update the text on your profile page, please contact Spec-Net.