Matrix Tanks from Atlantis Water Management - underground water storage tanks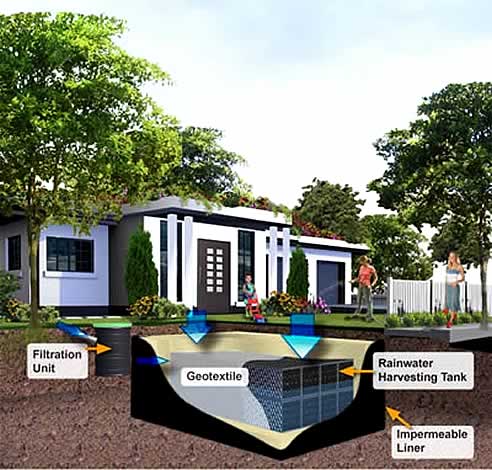 Home owners all around Australia are seeking ways to cost effectively capture and store storm water due to water restrictions and increased water costs. Matrix Tanks are an efficient and cost effective way to allow rainwater to be captured from the roof and other hard surfaces and then be stored under driveways and garden areas, enabling stored water to be used to irrigate gardens as well as flushing toilets.
Matrix Tanks are manufactured from recycled plastics, are high strength underground modular storm water tanks and have the capacity to cater for rainwater run-off from houses to large commercial projects. Matrix Tanks are easily assembled on-site without the need for tools; they are lightweight and high strength interlocking matrix plates.
Matrix tanks can be installed under trafficable areas, are modular and cater for all space and volume requirements. Matrix Tanks are the original modular tank system designed here in Australia and used throughout the world. They are manufactured in Australia as well as overseas.
Matrix tanks help capture rain and storm water that can re-used on the garden saving valuable water as well as saving both space in the yard and cutting down the home owners water bill.