Atlantis Water Management drainage cell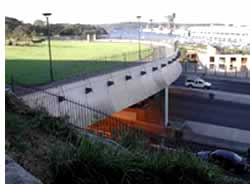 The Atlantis Drainage Cell System was used in the lead up to the 2000 Sydney Olympics in many areas around Sydney. The photograph shows the completed project on top of the Eastern Distributor in Sydney. The area is used extensively as a passive recreation area for the workers in the CBD.
The Atlantis Drainage Cell system is proven to be the world's best practice when it comes to efficient and effective drainage. Manufactured using recycled materials, the Atlantis Drainage Cell is a permeable modular drainage product suited to any subsurface filtration application ranging from planter boxes and roof gardens to roads and railways. Ideal for vertical and horizontal filter systems the tile-shaped Drainage Cell provides a structural blanket (or sheet) form of sub-surface drainage.
As with all Atlantis products the Drainage Cell is manufactured from recycled polypropylene making it indefinitely resistant to chemical and bacterial attack when installed in an underground situation. When used in conjunction with the range of Atlantis Porous Pavements and EcoSoils the Atlantis Drainage Cell System provides water quality management and superior drainage performance for sports field, civil works, retaining wall, bio-filtration, groundwater recharge and general landscape applications.