Elmich's VersiJack® paver support and water feature applications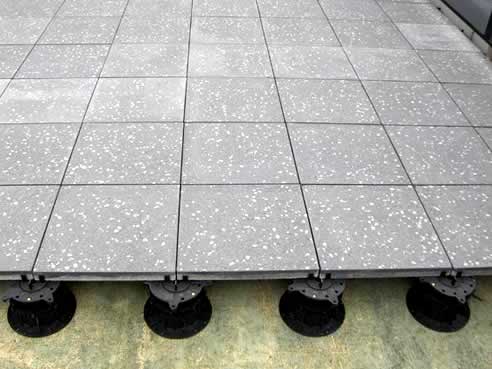 VersiJack are high strength adjustable plastic paver and concrete slab supports. VersiJack offer infinite height adjustment ranging from 75mm to 1000mm. VersiJack replace bedding sand and screeds eliminating efflorescence and algae formation. VersiJack are not adhered or mechanically fastened to the substrate and allow easy access to waterproofing membranes and services, concealed within the cavity space. VersiJack will support 1500 kg's and an adjustable head compensates for slopes up to 5%.
Advantages
Infinite adjustment.
Eliminates bedding sand.
Reduced weight on building structures.
No efflorescence and algae.
Access to membranes and concealed services.
Membranes not damaged or penetrated.
Allows air ventilation under pavers.
Reduced sound transmission.
Applications
Balconies and patios.
Decks and podiums.
Water features.
Pool surrounds.
Courtyards.
Canon Headquarters Building, Sydney
VersiJack, installed by Sydney Site Services, support pavers on a 500m2 rooftop recreational area at the Canon Headquarters Building at North Ryde, Sydney.
'Water Play' South Bank, Brisbane
VersiJack, installed by Naturform Pty Ltd, provide 900mm high support for large pre-cast concrete sections at 'Water Play' South Bank Brisbane.
VersiJack supports were mechanically anchored into the concrete slab and then adjusted either up or down to the correct support height. Large concrete slabs were positioned onto the VersiJack units to form part of the water feature.