Automatic Biflex Doors from ADIS Auto Doors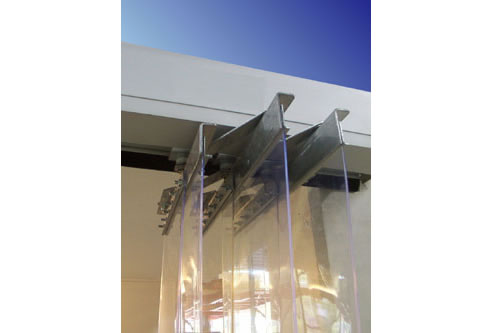 ADIS AUTO BIFLEX DOOR SYSTEM
No more scratched PVC curtains! The new ADIS AUTO BIFLEX door system will automatically open and close your PVC curtains, preserving the clarity of your PVC strips.
Product Features:
Operator is fully electronic, computerized with DC Motor and built in optical sensor for precise movement, high torque for a maintenance free life. Housed in an extruded aluminium low profile transom section for biparting or single parting doors
Source power is single phase
Brackets are plated steel, and PVC is300mm wide in 3mm or 5mm,with 100m overlap
Brush sealing along top edge
Self-calibrating and programmable modes
Open and closing speed control up to1.3m/sec
End position-damping control for accurate slow down of door movement
Safety damping control
Activation can be by push buttons, remote control, induction loops, motion detectors, PE sensors, etc.
Built in UPS (uninterrupted power supply) for operation of door under power failure
Hold open time from 0-60 seconds
Openings up to 8000mm in width.Special designs for larger openings.